Table of Contents
Overview
There are several different ways an invoice can be created in Lawnpro. This article will go over each way so you can decide what will work best for you and your team.
Creating an Invoice on the Finance Tab
One way to create an invoice is to go to the "
Finances"
tab and click "
Invoices"
You will then click the green "
New Invoice
" button.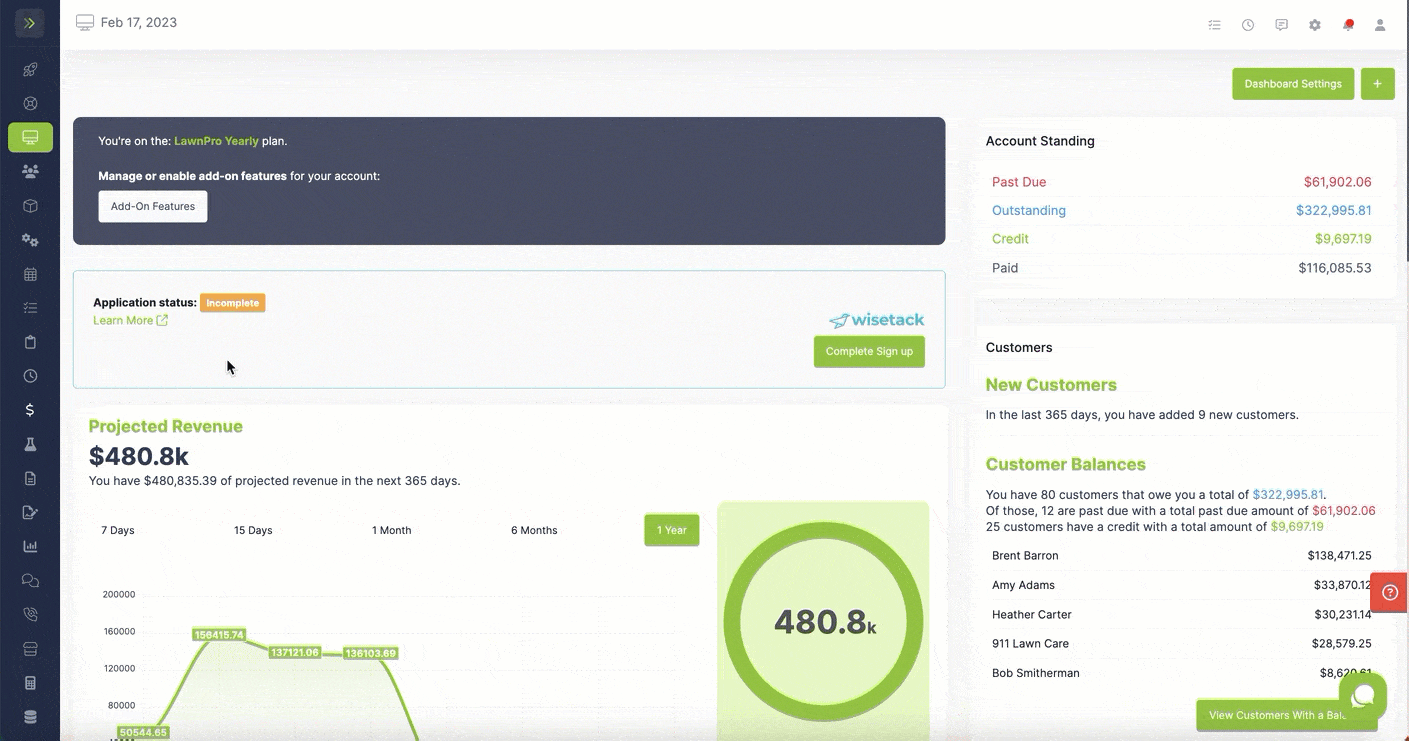 You can give the Invoice a title or description, but this is optional.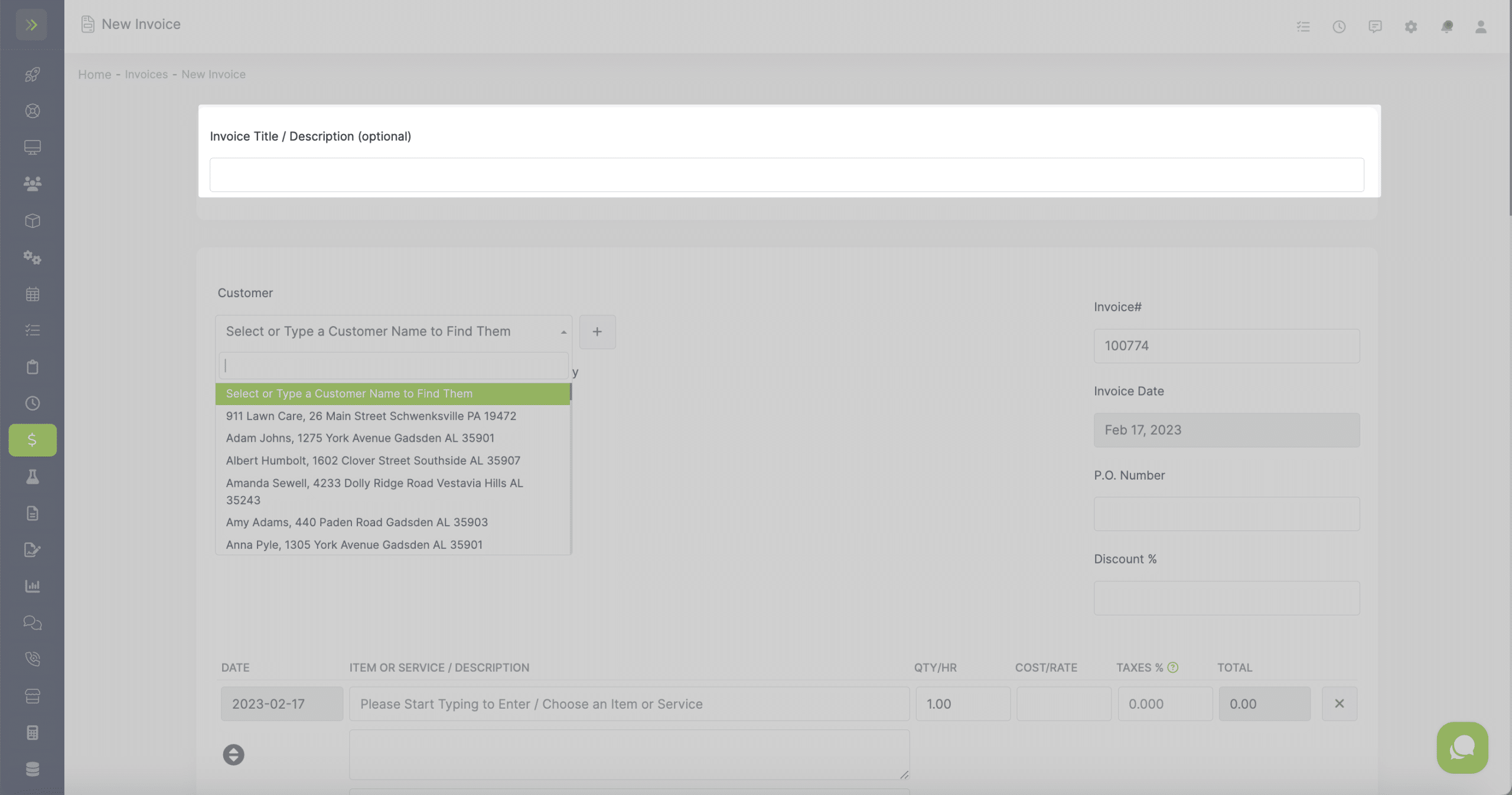 Then you still start by selecting which customer this invoice will be for. If you need to add a new customer at this time, you can click the "
+
" button.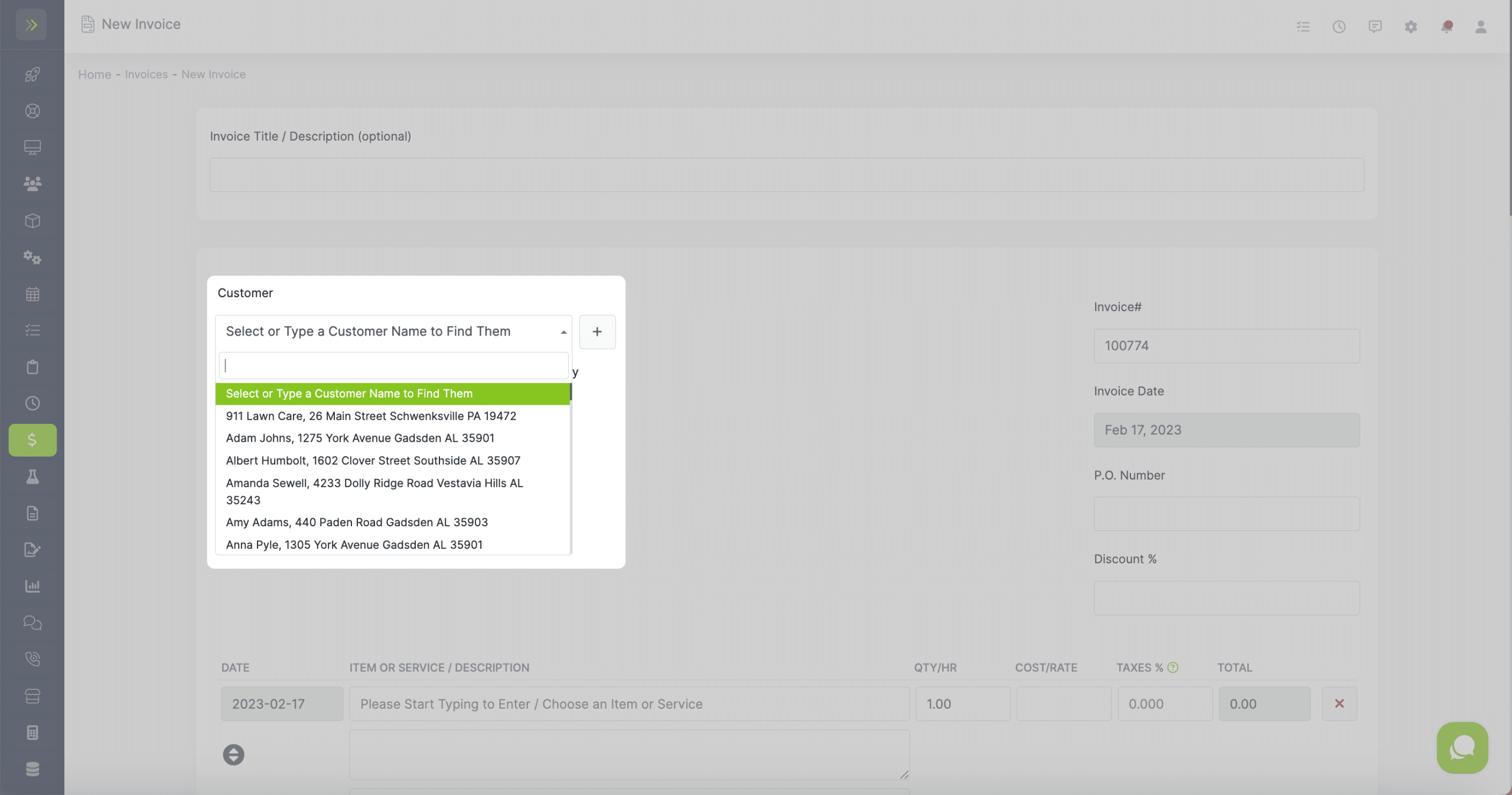 You can change the invoice number (
Note
: if you change the invoice number, the system will use the next number based on the number you changed the invoice to when creating another invoice.) You can also change the invoice date, add a PO number or add a discount.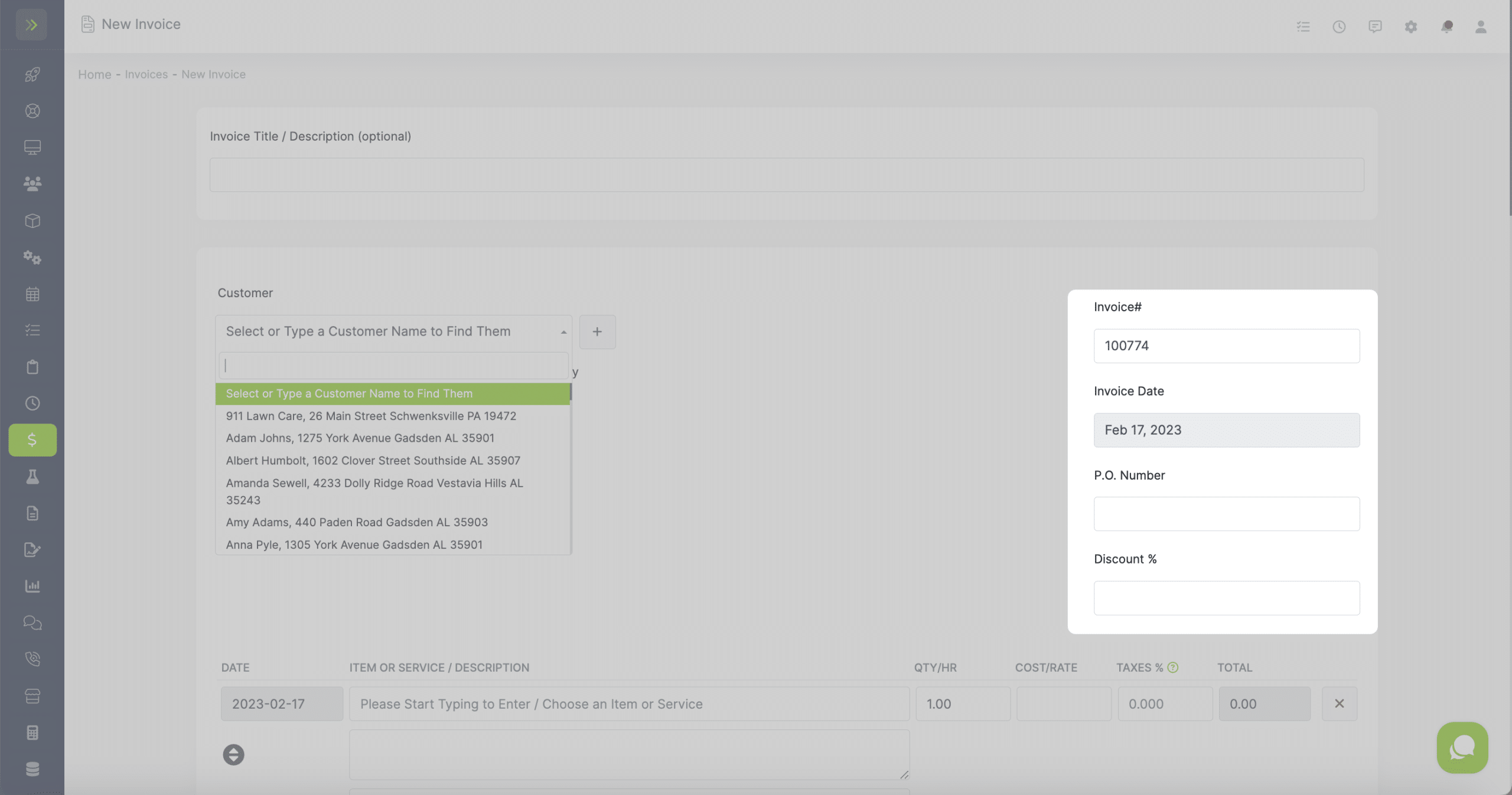 Next, start adding the items and services to the invoice and select which property this invoice is for. To learn how to create items/services you can go
here
.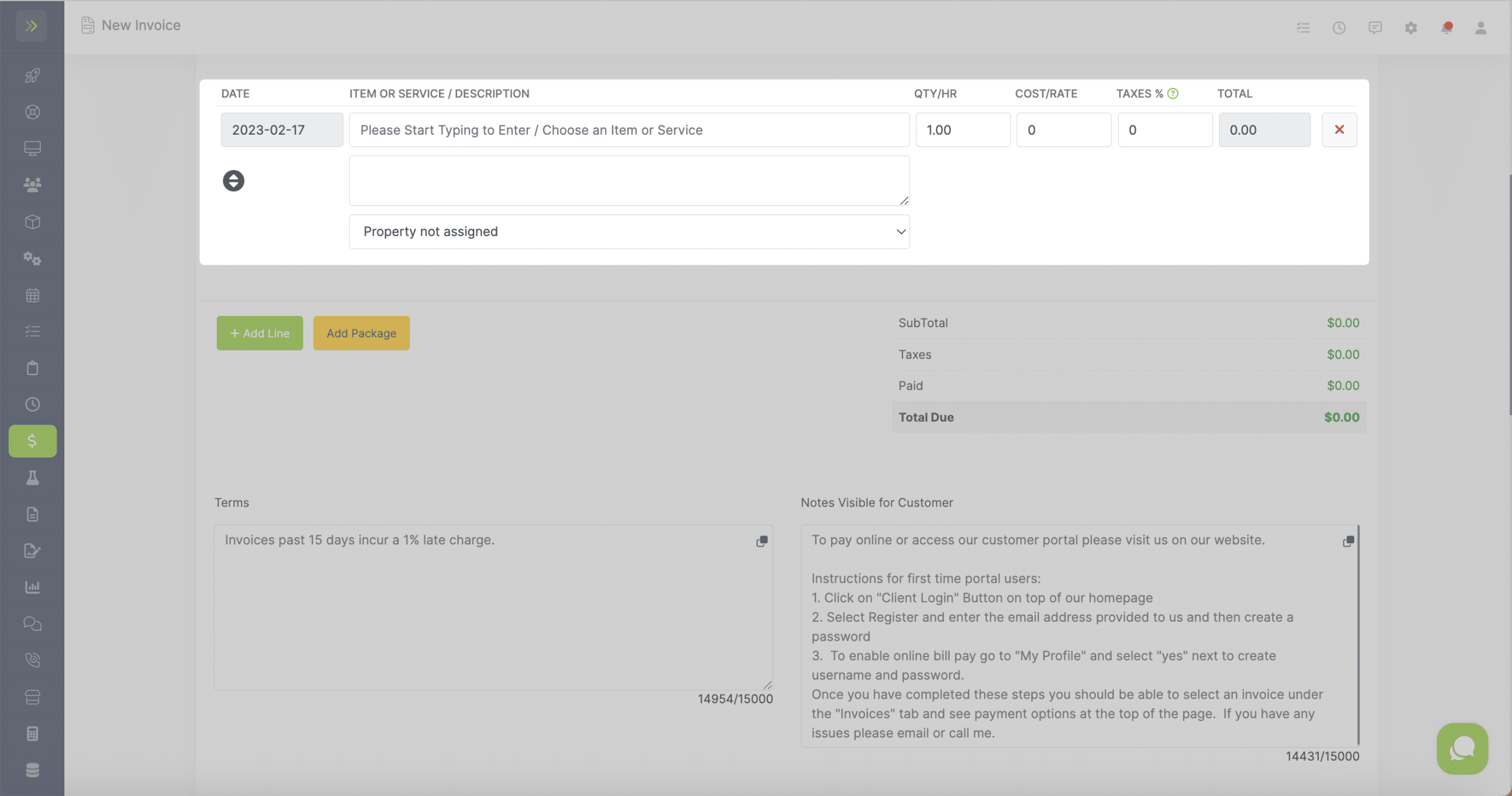 To add another line item to this invoice, click the green "
+ Add Line
" button.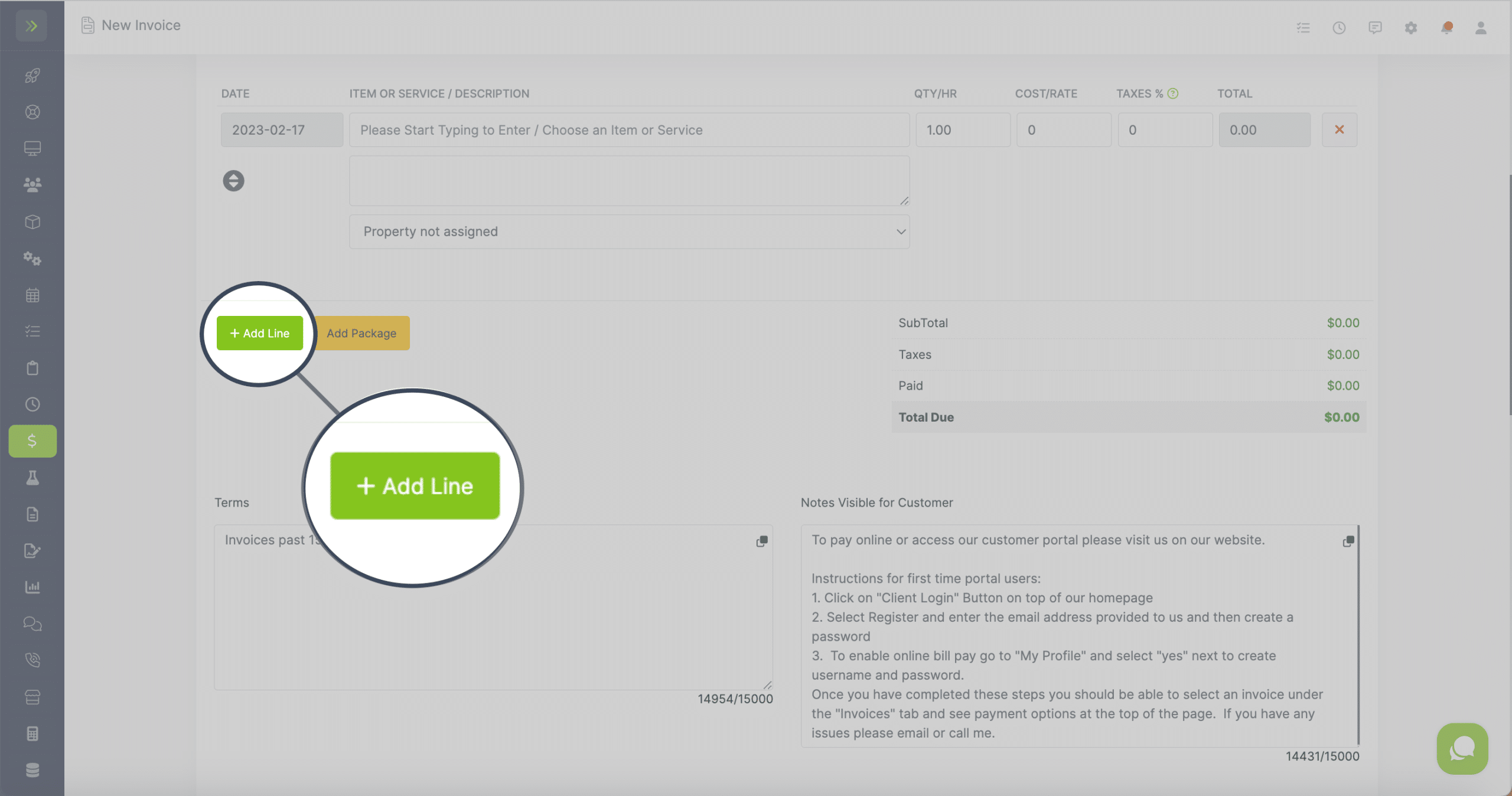 To add a
package of items/services
click the yellow "
Add Package
" button.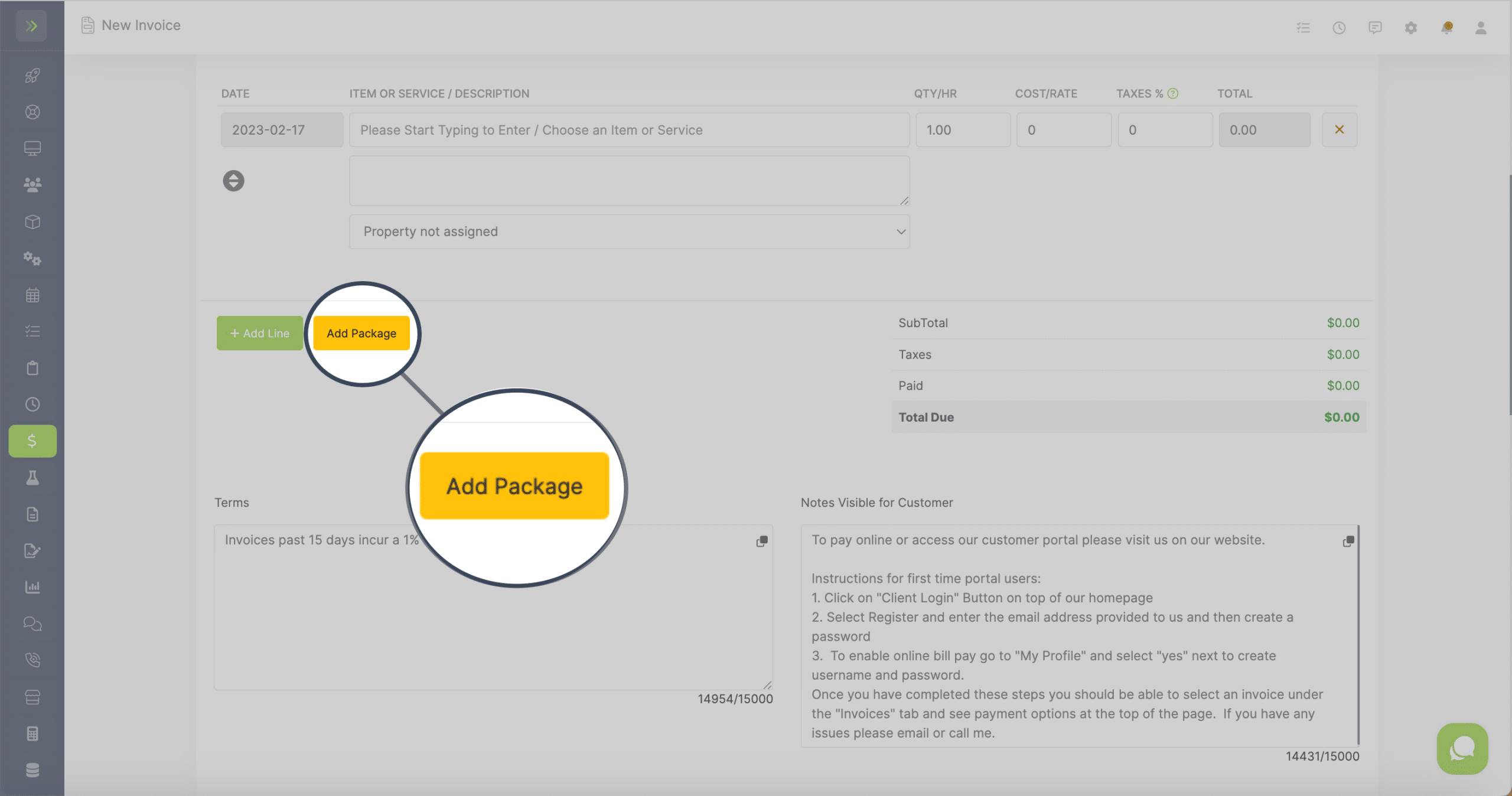 Next you will see your "
Terms
" and "
Notes Visible for Customer
" You can edit these areas at this time for this specific invoice or for all invoices in your
settings
. (
Note
: If you make changes to these areas while creating a new invoice, the changes will only apply to the current new invoice being created. If you want the change made to all future invoices you will have to edit them in settings)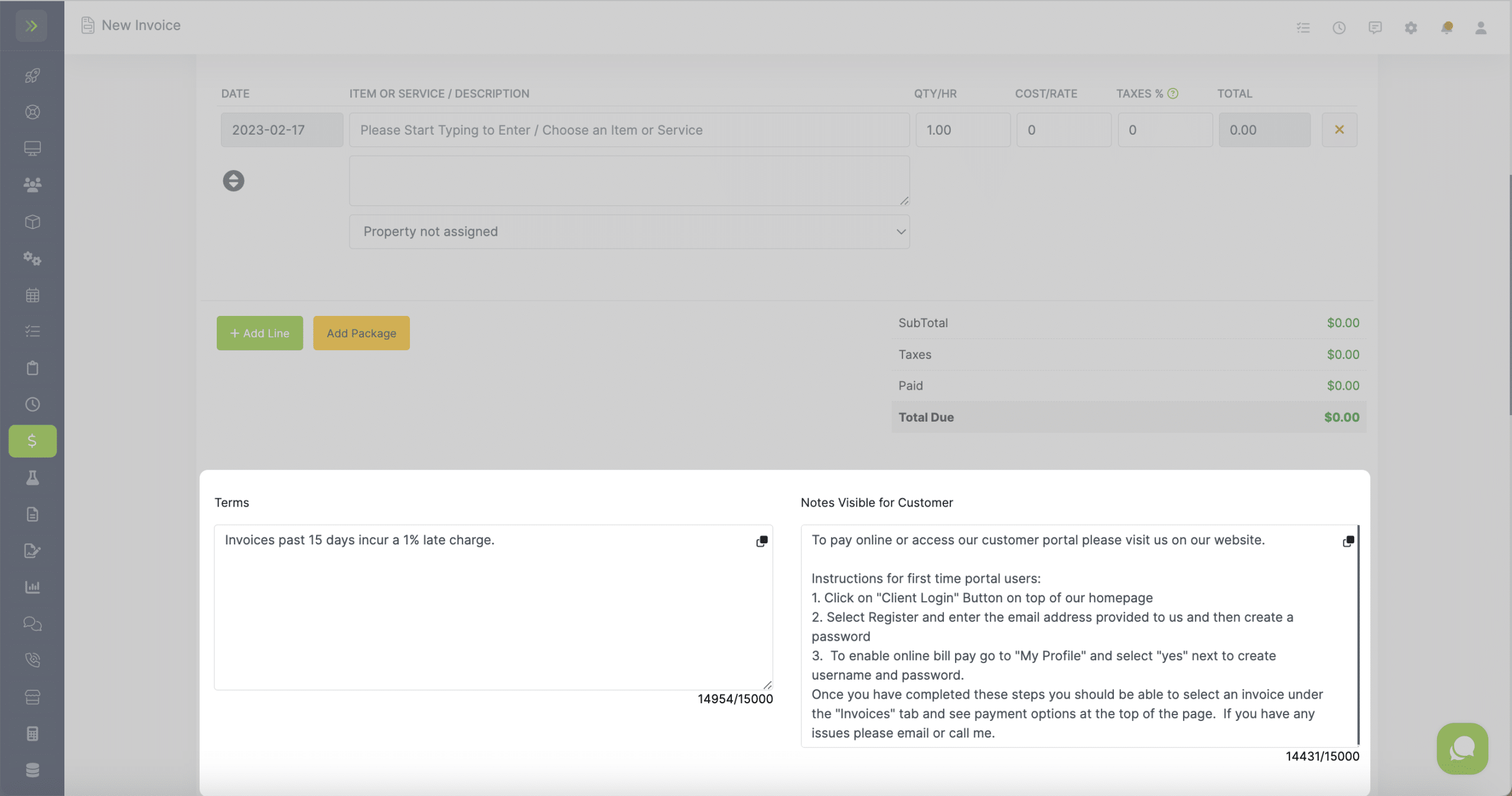 Create an Invoice From an Estimate
Once an Estimate is Accepted, you can then turn it into an Invoice. To do this, click the
Finance Tab
>
Estimates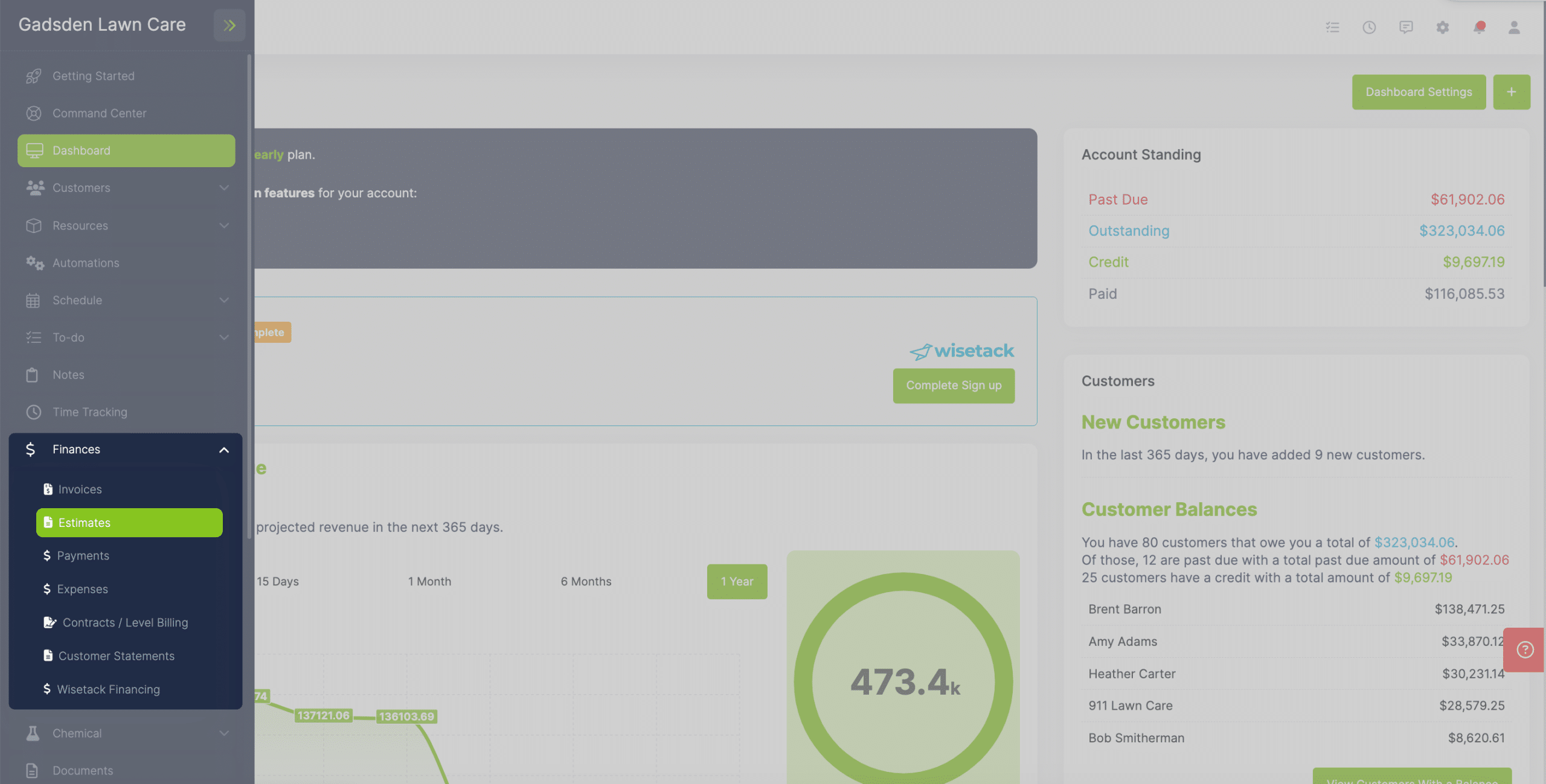 Find the estimate you want to turn into an invoice and click the
magnifying glass button
.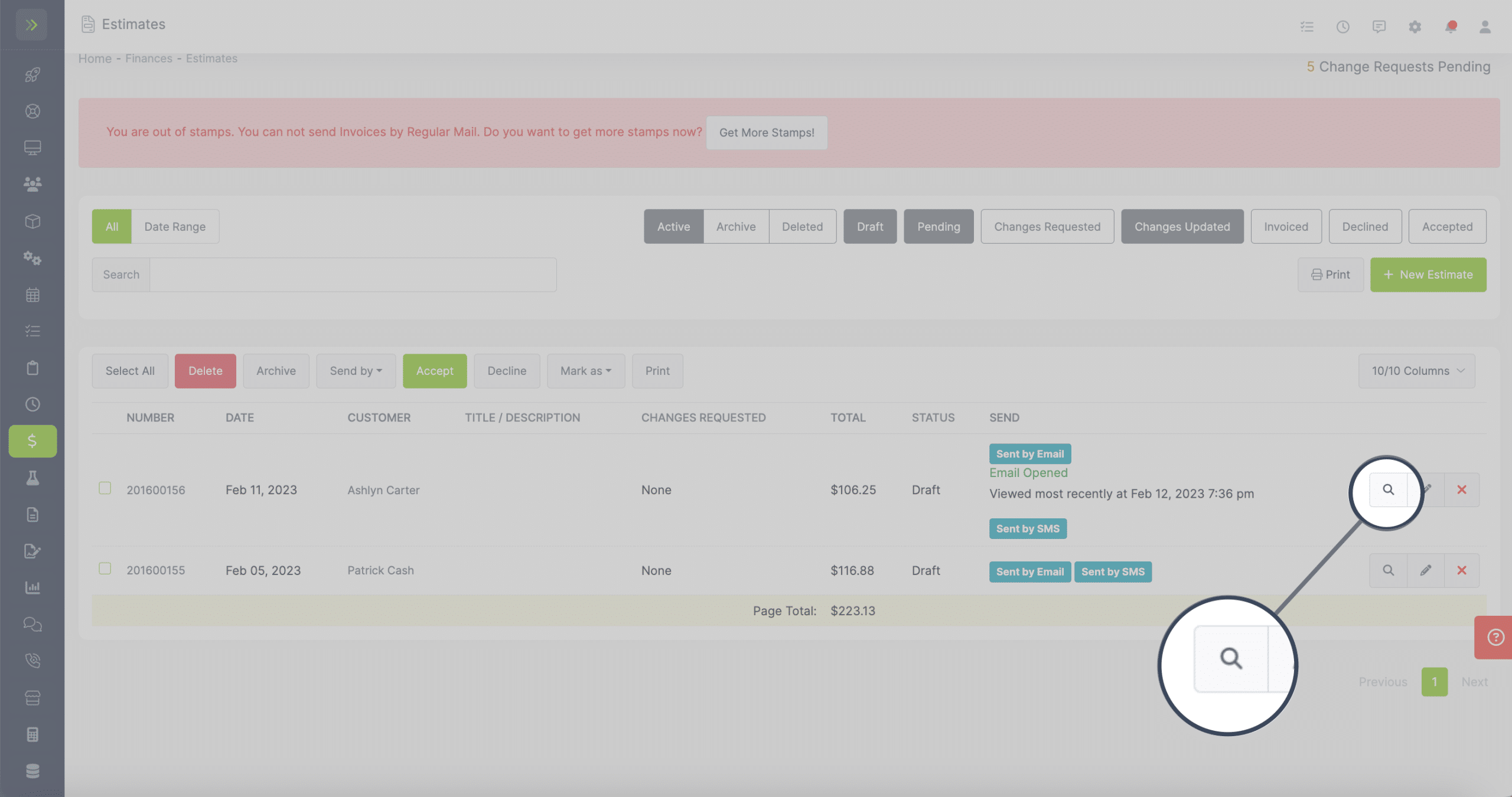 Once on the Estimate page, click the "
Create Invoice from Estimate
" button.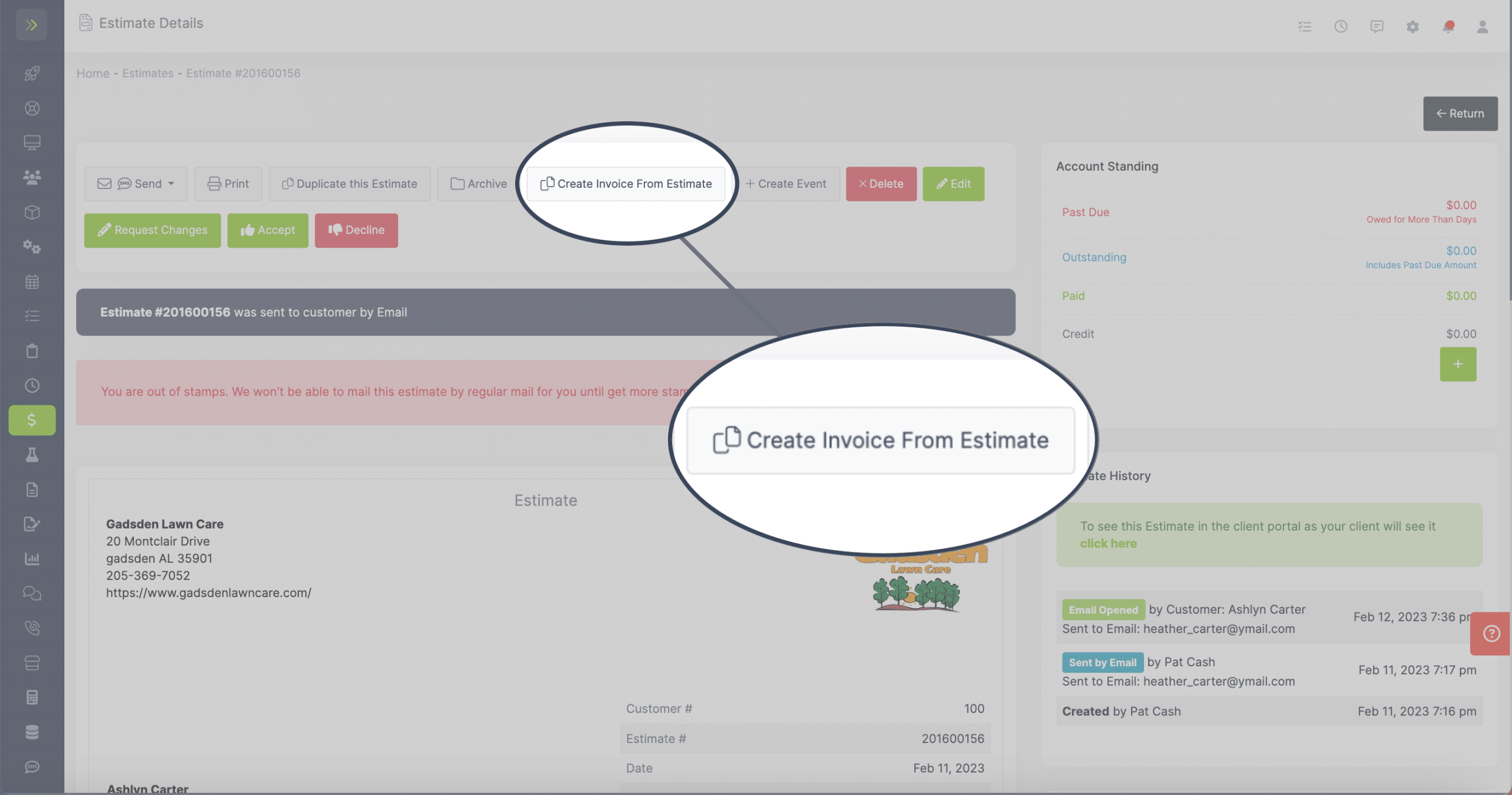 A pop-up will ask you if you're sure you want to turn this estimate into an invoice, click
yes
. (
Note
: The invoice cannot be turned back into an estimate)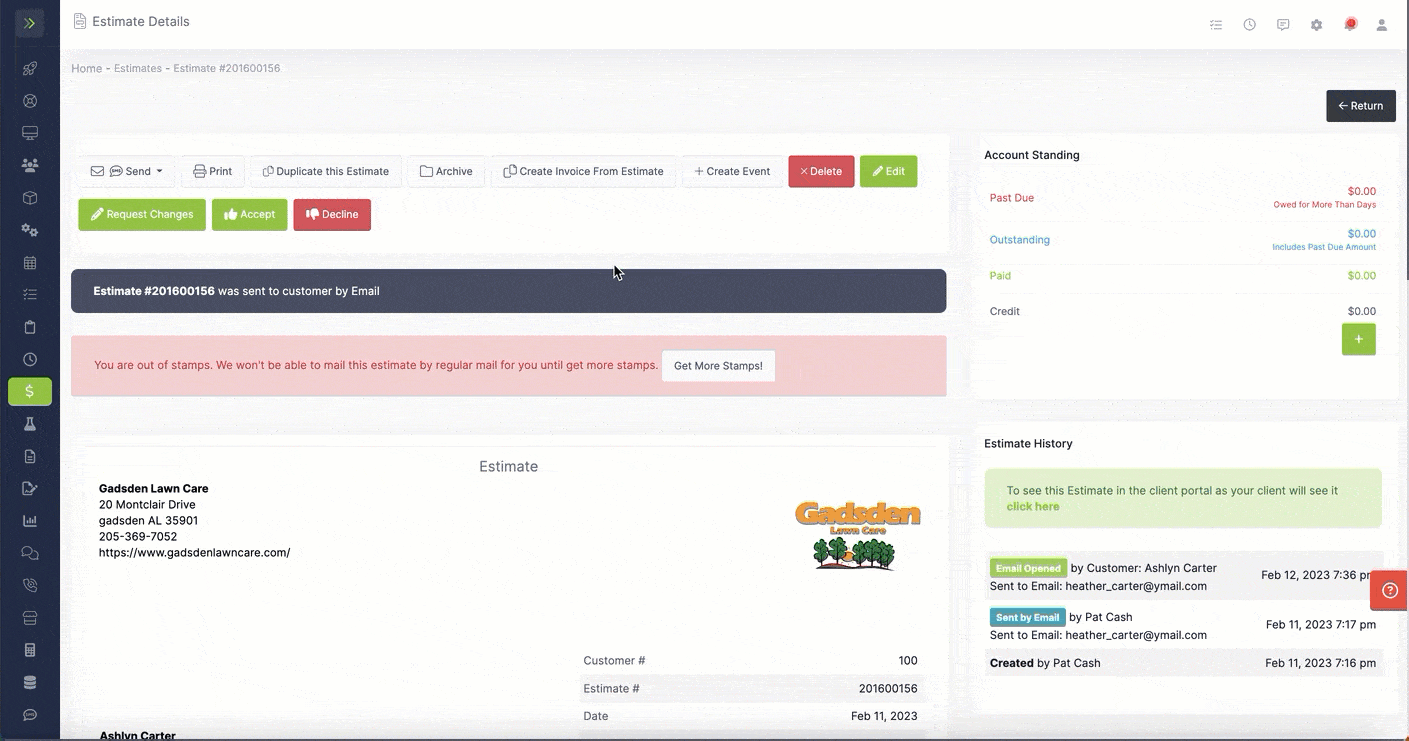 You will then see the invoice that was created from the estimate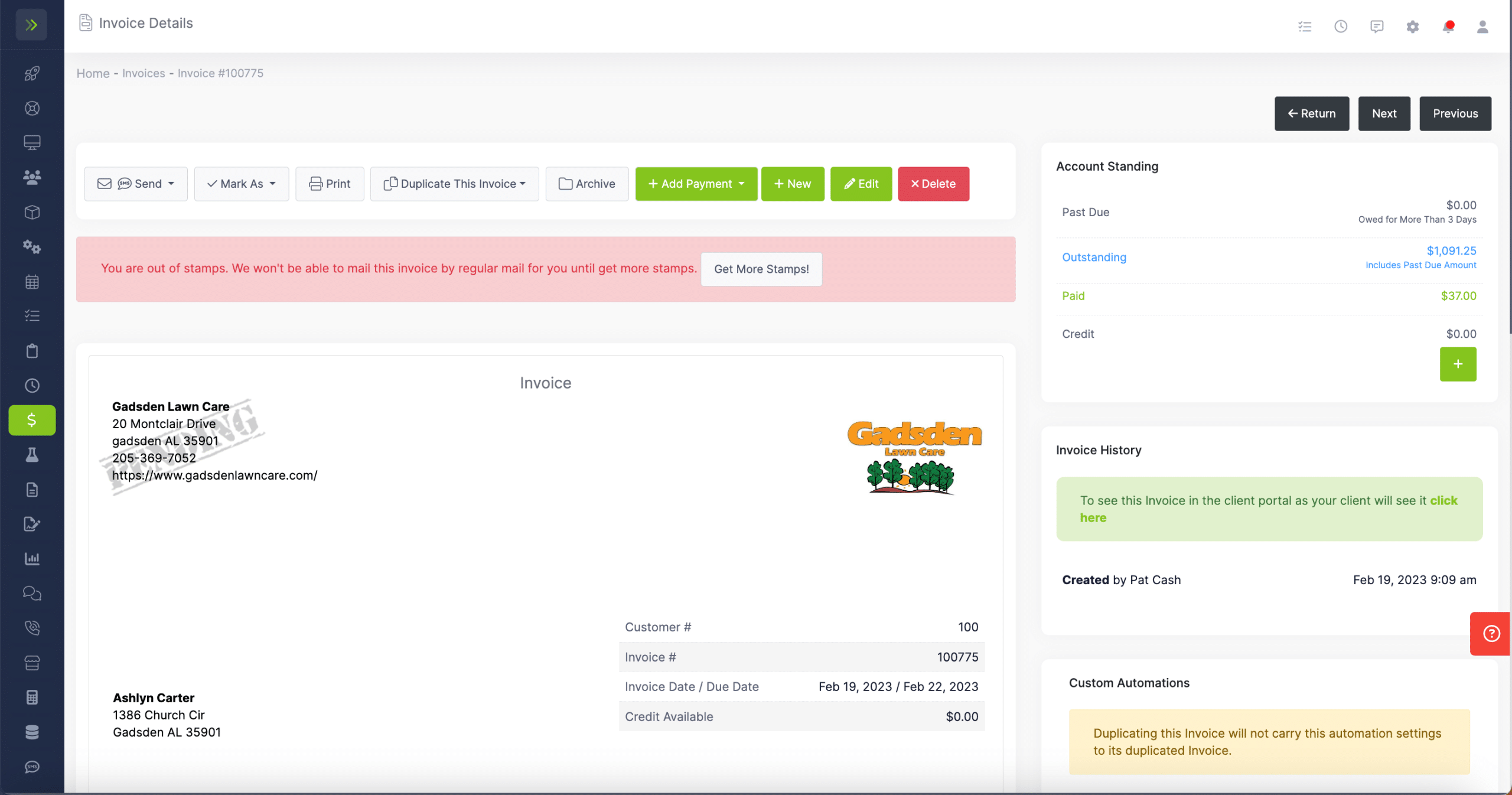 Auto-Invoicing
You can set up Auto-Invoicing for individual customers so that you don't have to manually create them. You can set up Auto-create and Auto-Send. You can learn about Auto-Send
here
. To set up Auto-Create Invoicing you will go to the
Customer Tab
>
Customers
. Next, you will select the pencil button for the customer you want to turn the auto-Invoicing on for.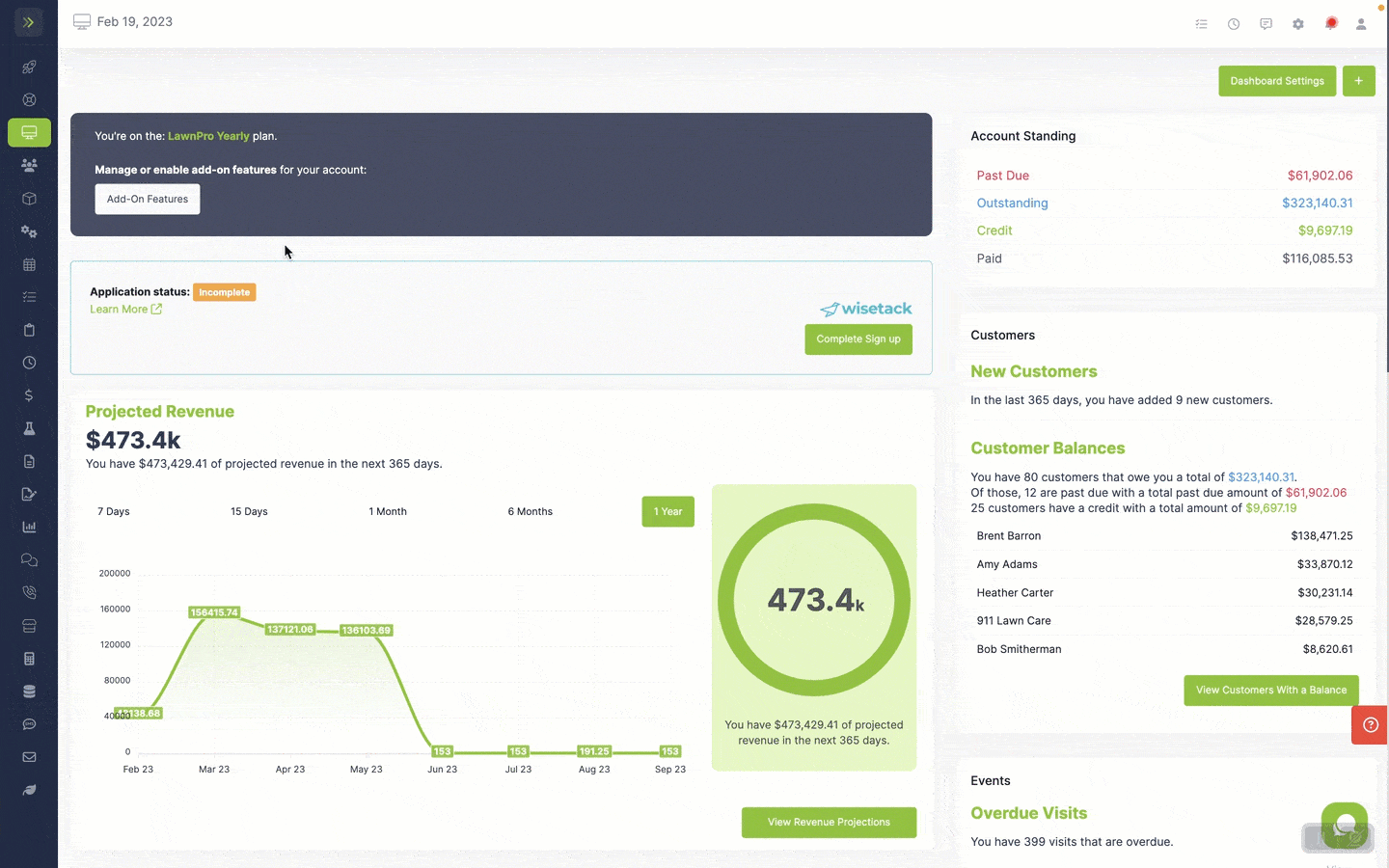 Once you are on the customer's profile, you will see the Auto-Invoicing options on the right side. To enable, select the box next to "
Enable Auto-Creating Invoices
"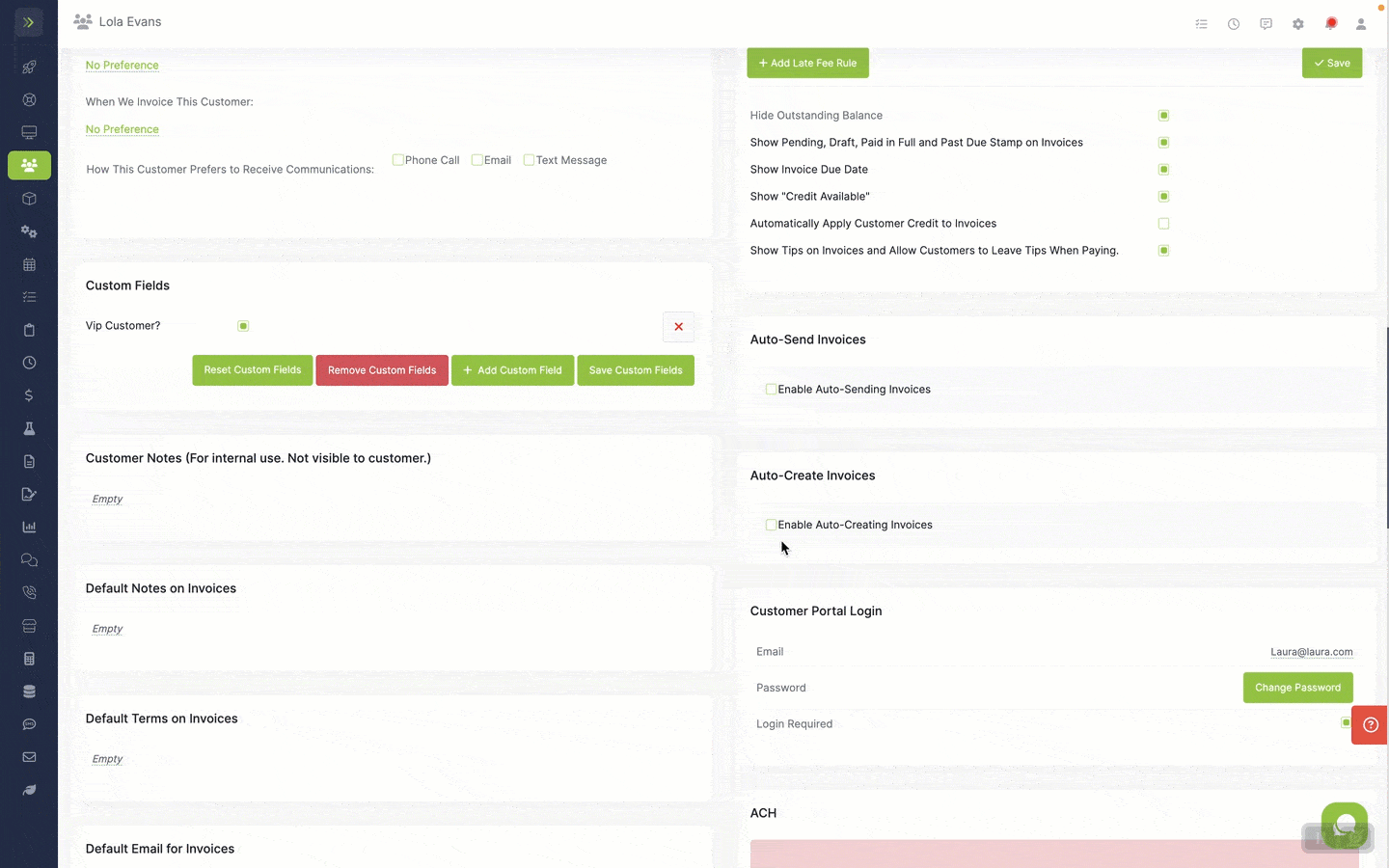 You will see the options for Auto-Creating Invoices. Choose whether you want them created Daily, Weekly, or Monthly.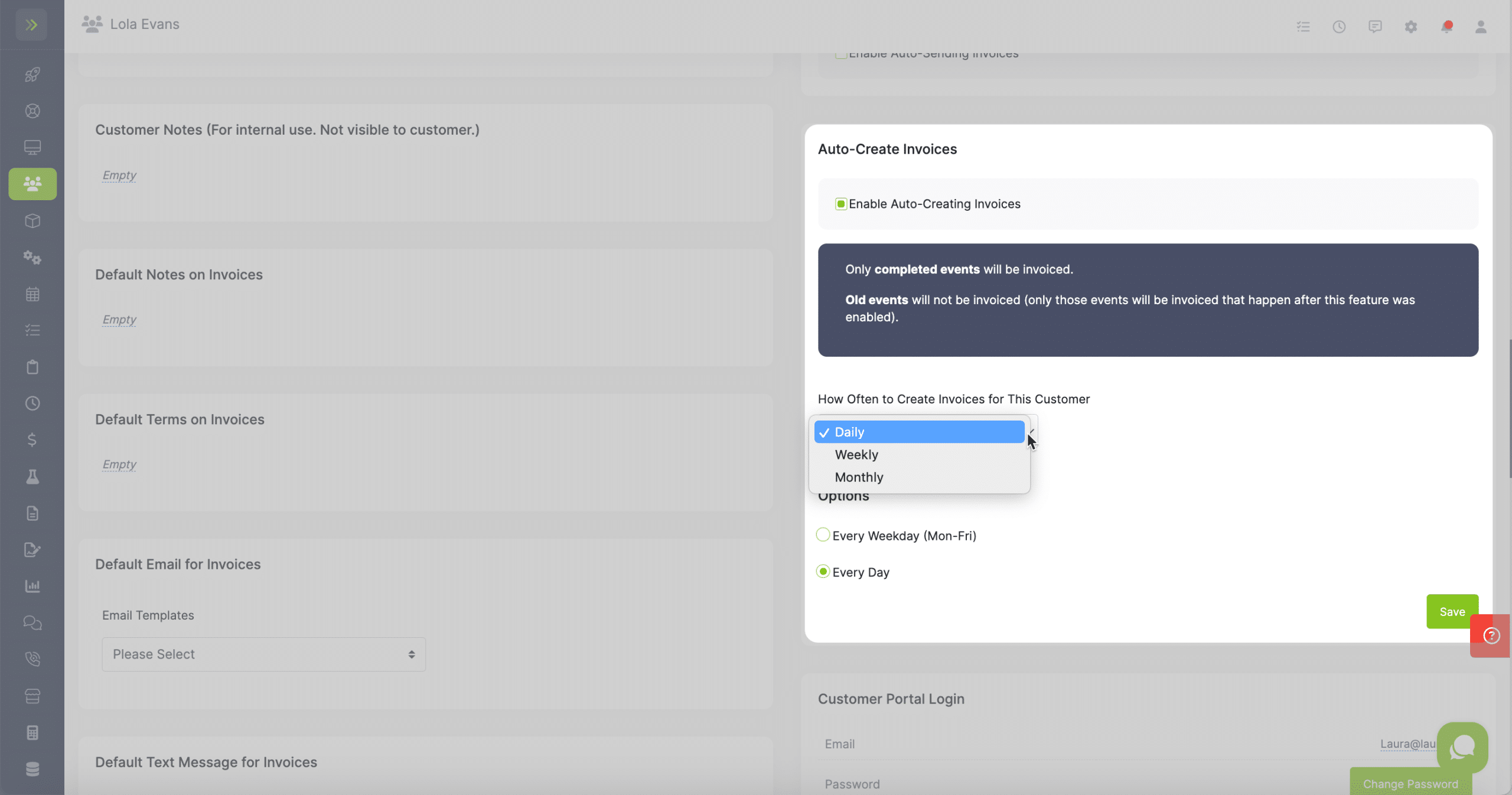 If you choose Daily, you will see the options to send every weekday (Mon-Fri) or every day.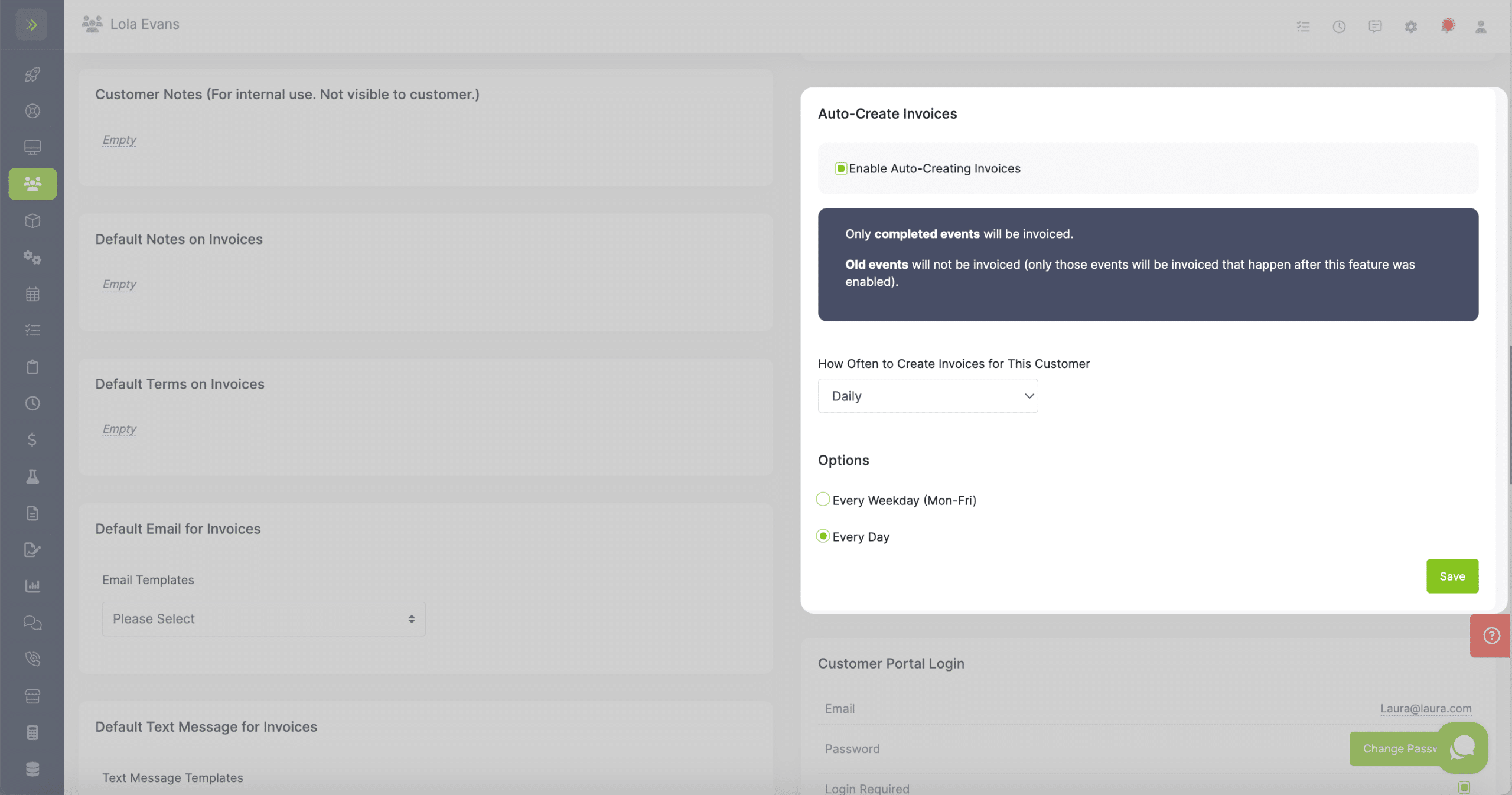 If you select Weekly, you will see the options to select how many weeks you want in between creating invoices and on what day of the week they are created.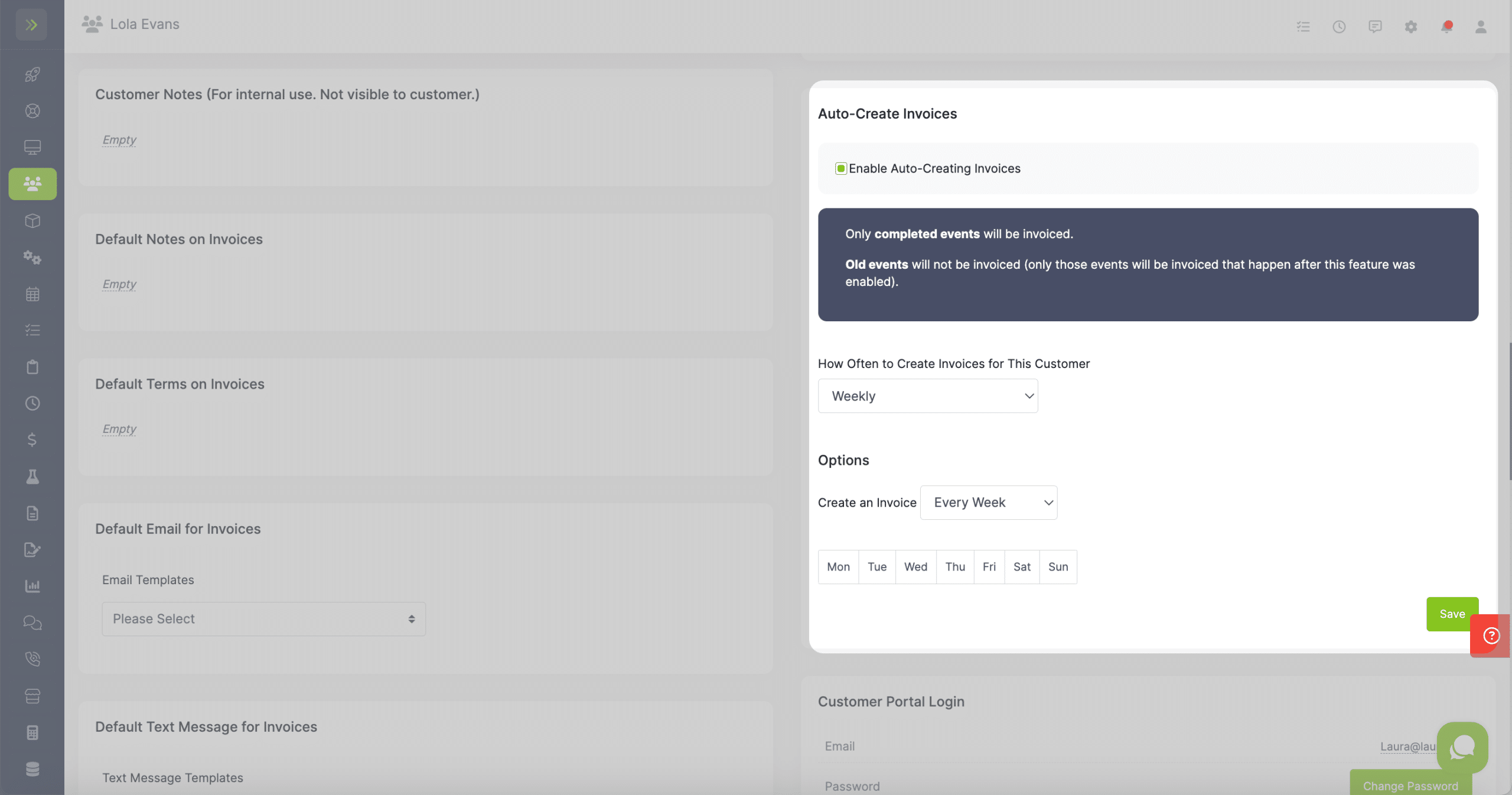 If you select Monthly, you will see the options to select which day of the month or if you want it to create it on the 1st, 2nd, 3rd, or 4th certain day of the week of every month.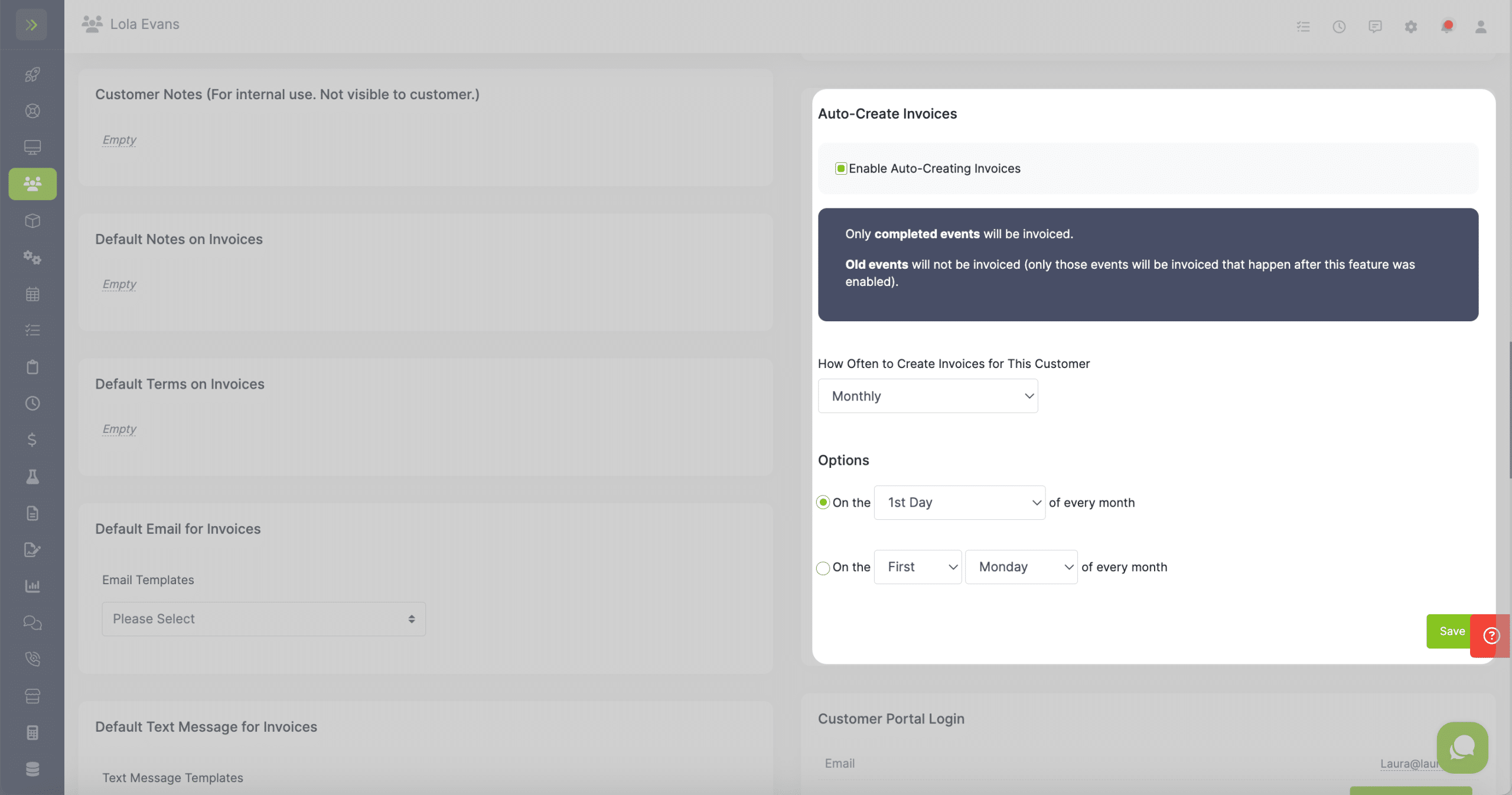 When you are finished, make sure to click the green "
Save
" button.
Note
: Only completed events will be included on the auto-created invoices. Only events closed after this feature is turned on will be invoiced.
Create an invoice From Your Schedule
You can create invoices from your schedule a couple different ways. To create invoices from your schedule, go to the Schedule Tab on the left side menu. One of the ways to create an invoice from your schedule is by going to the "Grid View" of your schedule.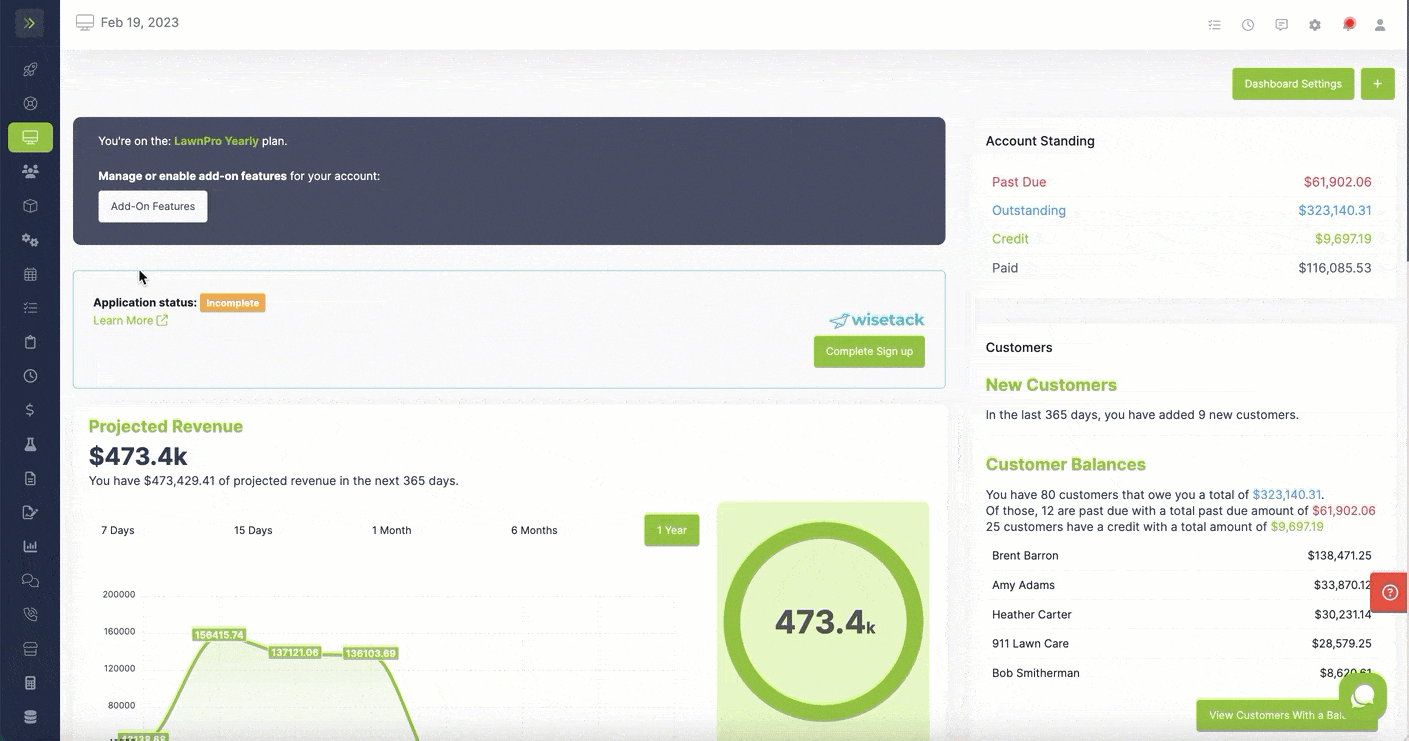 Select the boxes beside the visits you want to create invoices for and click "
Close and Invoice
"
What happens when you close and invoice these visits will depend on the settings you have selected. Learn more about those
here
.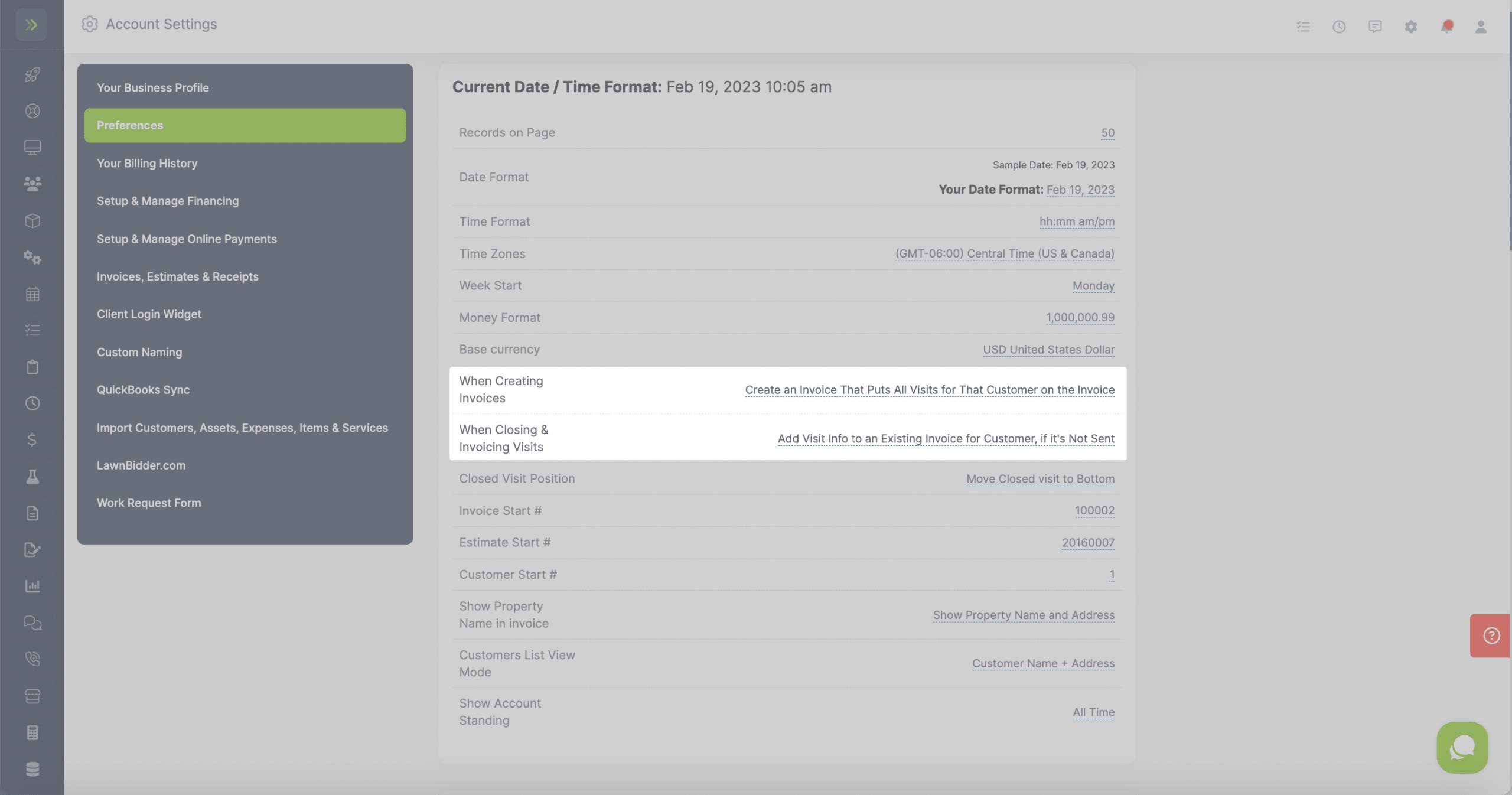 Another way to create and invoice from your schedule is to click on the visit on your calendar and close and invoice from the popup. When you click "
Complete & Invoice
" here, it adds this visit to an invoice or creates a new invoices automatically for you. (This is based on the settings in preferences that is mentioned above.)