We have a new Tracking Tracking Feature that has a lot of new options.
With Time Tracking Pro you can:
Manually Enter Time for Employees: Enter time manually for any employee.
Multiple Employees: Allow multiple employees to track time for the same visit.
Restart Timer: Start and stop the timer multiple times.
Timer Categories: Add timer categories to also track time for Driving, Break, Lunch, etc.
Clock in and Out: Employees will be asked to clock in each day before accessing the calendar and clock out at the end of the day.
Hourly Rates: Set hourly rates for visits and for categories (like Driving, etc).
Approve Tracked Time: Review the time tracked by your employees and approve (or if needed disapprove) tracked time.
Payroll: Keep track of payments.
To get the Time Tracking Feature, click the Time Tracking Tab.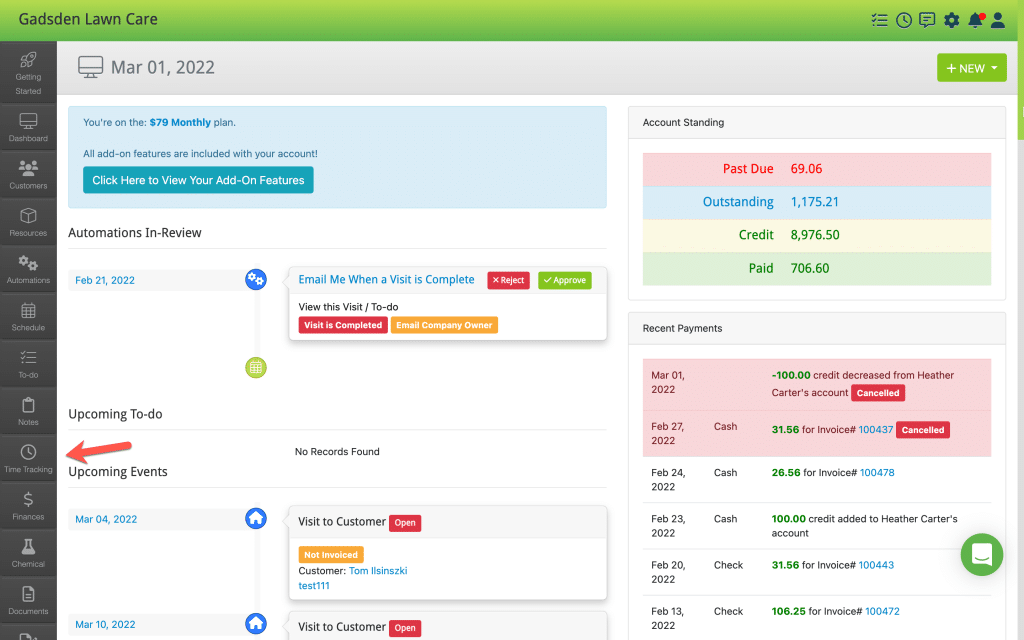 If you have not signed up for Time Tracking Pro Version you will see this message.
To sign up, click the green "Try Pro Version"
You will get to try it out free for 14 days.
After those 14 days you will be charged $10 a month for Time Tracking Pro. 
Once you have signed up, your Time Tracking Pro page will look like this:
On the Time Tracking Tab you can:
View/Edit/Add hourly rate Categories
View/Edit/Add Hourly Rates for Employees
Record Payments made to employees