There are 3 ways for sending invoices and estimates: send by e-mail, regular postal mail or text message.
To send an invoice go to Finances > Invoices page and click on the magnifying glass icon for the invoice you would like to send. (For estimates please click on Finances > Estimates.)
Once you are on the invoice or estimate detail page please click the Send button and you'll see a dropdown with 3 options: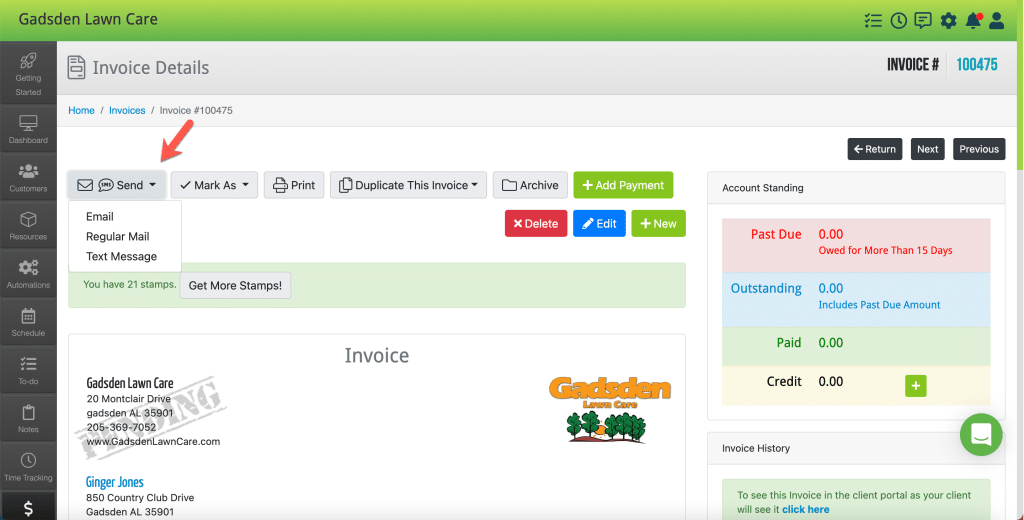 Send by Email
You can send the invoice via e-mail. The e-mail contains a link to your invoice and the invoice as a pdf attachment (unless you disable that option).
Your customers will be able to click on the link in the e-mail and see the invoice on the client portal and also pay online.
Send by Text Message
You need to enable Texts on the Text page before you can send an invoice via text.
The text will include a link. Once the link is clicked the customer will be able to see the invoice on our client portal and also make a payment online.
Send by Regular USPS Mail
You can also have us print and mail your invoices using regular postal mail.
Invoices are mailed the same day you click to send them as long as it's before 2:30 CST.
Invoices are printed with a tear-off payment slip at the bottom and also include a return envelope for your customers to mail back their payment.
*You'll need to buy stamps on our Store page before you can send invoices via regular mail. To learn how to buy stamps go here: https://help.lawnprosoftware.com/knowledge-base/how-to-buy-stamps/