To add an item or service to LawnPro, from the lefthand menu click "Resources" then click "Items & Services"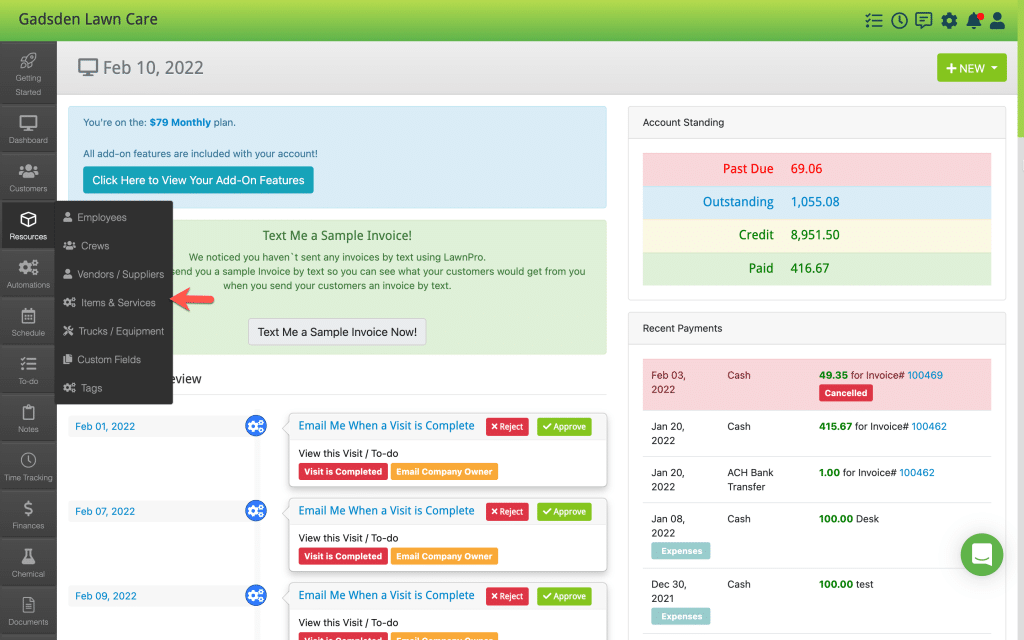 You can also get to this screen by clicking here:
https://secure.lawnprosoftware.com/resources/srv
This lets you either add an Item or service by entering it manually or you can choose to import a list of your items and services from any other software program as long as you have it in a .csv format.
You can also download a sample .csv file to get an idea of how your import should look.
You can get to the import items & services screen by clicking here:
https://secure.lawnprosoftware.com/importexport/importServicesAndItems
To enter a new Item or Service manually, click the green, "+ Items & Services" button.
Once on the add Items & Services page, choose the "Type" which can be service, item, labor, or other.
Next choose the category for the new Item/Service.
Choose one from the drop down, or click the "+" button to add a new one.
Name the new Category, add a description (optional) and click the blue "Save Category" button.
Fill out the name, quantity, unit of measurement, and cost for this new Item/Service.
Check the box to make the item/service taxable.
You can also choose to add this new Item/Service to all FUTURE INVOICES. This will not add it to any old or existing invoices.
Note: The new item will not show on the visit. It will only appear once you create the invoice. This is intended for things such as fuel surcharge.
Click the blue "Save Item & Service" button to save